---
You can choose from four different inflating systems. Each has its own unique user functions. On this page we explain the different systems and you can examine the product photographics with associated product description.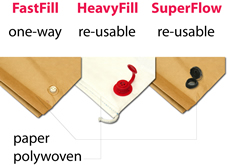 Which inflating system to use depends on the demands of the user.
If, for example, you don't want to re-use the dunnage bag, but it needs to inflate very fast; then the FastFill system is suitable for you.

CairgoBag SuperFlow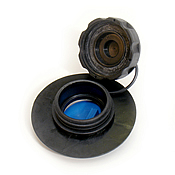 SuperFlow
Its reusable design enables you to maximize your investment in load securement by reusing the same air bag multiple times where allowable. It's also an environmentally friendly choice for securing your load, because it's 100% recyclable.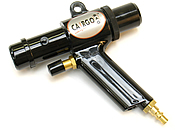 Fast
The typical inflation time of 2 minutes can be reduced to 38 seconds (approx.)
The SuperFlow inflator is unique, utilizing both compressed and ambient air (Venturi Effect), enabling it to achieve unequalled inflation speeds.

Consistent
By setting the desired pressure on the air line regulator, you can achieve consistent inflation. No more over-inflated or under-inflated air bags.
Once the desired level of air pressure has been achieved, the SuperFlow inflator ceases to inflate the dunnage bag. This reverses the air flow and redirects it out the back of the inflator. This also indicates to the operator that the bag is properly inflated, preventing over inflation.

Reusable
By pushing our unique, patented blue valve flapper, operators can quickly deflate the dunnage bag and reposition it or store it for reuse.
Cost Effective
The SuperFlow system can be used multiple times and inflates the bag in less than half the time it normally takes. Significantly reducing the cost per use and labour costs.

CairgoBag FastFill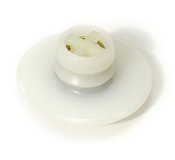 FastFill
This system is for the one-way dunnage bags. It allows the user to fill it as fast as possible and throw away afterwards. It is not possible to reuse the bag after inflation. It's a cheap and fast solution for a fast moving company.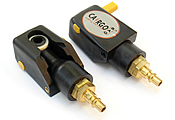 FastFill valve connector (Mouse Tip)
Connector, which can be connected very quickly and directly to a basic or heavy design air tool. To connect a FastFill valve for inflating a dunnage bag with the CairgoBag FastFill inflating system.